5 Hour Seattle Itinerary Options
If you have a limited window of time to explore Seattle we can help with five-hour itinerary suggestions.
Feel free to mix and match activities to make the most of your short trip and be sure to come back when you have more time to visit.
5 HOUR ITINERARY OPTIONS FOR THINGS TO DO IN SEATTLE
OPTION 1 – EXPLORE SEATTLE SOUTHSIDE
Start off at The Museum of Flight in Tukwila. Located right off the I-5 freeway at Boeing Field, this is a great place to kickstart your exploration. From the Wright brothers to outer space—the wonder of flight comes alive in more than 85 historic aircraft, interactive exhibits and family activities. You won't be able to see everything in this shortened trip so you will need to come back and stay longer next time. For now choose 1-2 of the main exhibits to get a taste of the largest air and space museum in the county. Journey through history aboard the original jet Air Force One and the supersonic Concorde. Explore the Red Barn–the workshop where Bill Boeing built his first airplane. Take a wild aerobatic flight in the X-Pilot motion simulator. Discover stories of unimaginable bravery in the Personal Courage Wing, featuring 28 WWI and WWII fighters. Explore the Charles Simonyi Space Gallery to view the Full Fuselage Space Shuttle Trainer. Stretching over 100 feet, and four stories high, the Space Shuttle Trainer was used by NASA to train every space shuttle astronaut.
Price:
Adult (ages 18 & over): $25
Senior (over 65): $21
Youth (ages 5-17): $17
Child (ages 4 & under): Free
Recommended Duration: about 2 hours
Hours: Open Daily: 10am-5pm
After the museum make your way south to the Des Moines Beach Park. On your way, stop at Spice Bridge to grab a picnic lunch. Spice Bridge, the International Food Hall in Tukwila, is home to FIN's Food Business Incubator program, which helps South King County women of color, immigrants, and refugees start and grow thriving businesses. Taste delicacies from around the world at the eight rotating food stalls. Try something from each business to experience all of the flavors. The restaurant owners can provide suggestions based on what you like since they are the right there making your dish. Be sure to ask for your food to go so you have time to enjoy the views in the park.
Hours: Tues-Sat: 11am-8pm, Sun: 10am-3pm
Grab a bench a picnic table or a seat on the grass to feast on your lunch and the mountain and sea views. Set to a backdrop of the Olympic Mountain range, the Puget Sound glimmers in the sunlight as boaters depart the next door marina. Keep an eye out for seals, kite board surfers and beachcombers. If you feel the need to stretch your legs after lunch, take a short stroll on the Des Moines Creek Trail.
Recommended Duration: 1 hour
Now that you've had some fresh air and little exercise, drive 20 minutes along Military Road to Seattle Chocolate Factory. On the way take a minute to image the scenery around you in 1858, when this road was constructed. Once you've arrived at the factory and parked by the vibrant mural, head inside for a true Willy Wonka-style experience.
The Experience Chocolate Tour at Seattle Chocolate is a celebration of all things chocolate and an opportunity to bring people of all ages together to taste, experience and discover all aspects of this sweet sensation. The tour is designed as an immersive experience that educates and inspires visitors to delight in the chocolate-making process. After the tour, be sure to purchase more chocolate souvenirs for you and your friends and family.
Recommended Duration: 1 hour
Factory Tour Hours: Mon- Sat: 9am-2pm (Please note, the factory usually operates Monday-Thursday. The production schedule currently varies, so while you will see the machinery and space we cannot guarantee that you will see them in production.)
Tour Cost: $10
Explore Seattle Southside
Option 2- Seattle Waterfront
Spend a leisurely day exploring the market and the waterfront. The Pike Place Market is a special place; internationally recognized as America's premier farmers market. This nine-acre historic district hosts ten million visitors each year who come to experience the unique sites and sounds of Seattle's downtown public market. Helping to make up the Market experience are more than 100 farmers, 190 craftspeople, nearly 300 commercial businesspeople and 240 street performers. Have lunch at one of the amazing restaurants in the market or nearby. Pike Place Chowder is especially good (1530 Post Alley). Or, walk down through to the "DownUnder stores" and keep walking down the steps of the "Pike Place Hillclimb." Head south (left) along the waterfront to the piers, where the Seattle Aquarium (Pier 59) and the Great Wheel (Pier 57) are located. Interesting shops and restaurants are located on Pier 57 as well, including the Crab Pot (1301 Alaskan Way) and Ivar's Fish and Chip Bar (1001 Alaskan Way). Don't miss the Gum Wall down Post Alley.
Recommended Duration: about 2 hours
Merchant Hours: 10am-6pm

From the depths of Puget Sound to a Pacific Coral Reef. Walk underwater in the Dome, meet hundreds of species of fish, birds, invertebrates and marine mammals. Step up, lean over and reach in—watch what happens when you gently stroke a sea cucumber. Test your fingertips against the prickly spines of a sea urchin. Follow the scuttling steps of a hermit crab. Notice how, even though they seem to be completely still, sea stars are always moving. Inhale the rich scent of seawater.
Price:
Adult (ages 13 & over): $32.95
Youth (ages 4-12): $21.70
Child (ages 3 & under): Free
Recommended Duration: about 2 hours
Hours: Daily 9:30am - 6pm
This 175 foot tall, 170,000 pound Ferris Wheel sits on Seattle's waterfront over the Puget Sound on pier 57 near the Pike Place Market and Seattle Aquarium. It carries 42 enclosed, heated and air conditioned gondolas holding up to 8 people each. As passengers are lifted into the air, they can see the a fantastic view of the city, sound and mountains while listening to a narration describing Seattle's waterfront history. The wheel is the only one of its kind to be built over water.
The wheel also includes one special reservation gondola with glass floors for the ultimate viewing experience.
Price:
Adult (ages 12 & over): $16
Senior (over 65): $14
Youth (ages 3-11): $11
Child (ages 2 & under): Free
Duration: 30 minutes
Hours: Sun-Thurs: 11am-9pm, Fri: 11am-10pm

Seattle Waterfront
Internationally recognized as America's premier farmers market. This nine-acre historic district hosts ten million visitors each year who come to experience the unique sights and…
From the depths of Puget Sound to a Pacific Coral Reef. Walk underwater in the Dome, meet hundreds of species of fish, birds, invertebrates and…
OPTION 3 – SEATTLE CENTER
For the full Seattle Center experience, ride the Monorail from downtown. The nation's first full-scale commercial monorail system and a beloved Seattle landmark, the Seattle Center Monorail provides a fun, quick, and convenient link between downtown Seattle and the Space Needle.
Every degree of the Space Needle Observation Deck's 360-degree view commands your attention. Snow-capped Mt. Rainier to the south and the Cascade Mountains to the east, the majestic Olympics to the west. Float planes land below you on sparkling Lake Union. Ferries, cruise lines and cargo ships cross Elliott Bay. The city streets are abuzz with activity. Tilting glass benches leaning out over the city, the world's first and only revolving glass floor, and unmatched views of Seattle and beyond.
Price:
Adult (ages 13-64): $35
Seniors (over 64): $30
Youth (ages 5-12): $26
Child (ages 4 & under): Free
Recommended Duration: about 2 hours
Hours: Daily: 9am-10pm
Enjoy a snack or lunch from one of the many vendors in the Seattle Armory Building and then choose your next adventure from several Seattle Center museums. You won't have time to see them all so choose one or the other and come back again to visit the other attraction.
The Pacific Science Center includes six acres of hands-on science fun, two IMAX theaters, a Tropical Butterfly House, Live Science Stage shows, dinosaurs, Laser Dome and Planetarium, and much more!
Price:
Adult (ages 16-64): $18
Seniors (65 and over): $16
Youth (ages 6-15): $13
Child (ages 5 & under): Free
IMAX is an additional cost
Recommended Duration: 1-2 hours
Hours: Daily: 10am-5pm
Explore the beautiful art of hand blown glass. Chihuly Garden & Glass provides a look at the inspiration and influences that inform the career of artist Dale Chihuly. The Exhibition includes eight Galleries, the centerpiece Glasshouse and a lush Garden. If also visiting the Space Needle you can purchase a combo ticket for both attractions.
Price:
Adult (ages 13-64): $32
Seniors (65 and over): $27
Youth (ages 5-12): $19
Child (ages 4 & under): Free

Hours: Daily: 10am-6pm
Recommended Duration: 1-2 hours

MoPOP is home to the worlds most immersive pop culture experiences, showcasing iconic moments in TV, rock n roll music, science fiction, and much more. At MoPOP you can learn to play the guitar, jam to a crowd of screaming virtual fans, and be inspired by our amazing rotating exhibits of popular music legends, science-fiction icons, and the worlds of fantasy and horror. The rotating exhibits and multi level interactive features will leave you wanting to come back for more time in this unique and fascinating museum.
Price:
Adult (ages 18-64): $30
Seniors (65 and over): $27
Youth (ages 5-12): $21
Child (ages 4 & under): Free
Recommended Duration: about 1-2 hours
Hours: Daily: 10am-5pm
OPTION 4 - SNOQUALMIE FALLS
This beautiful waterfall stuns any time of year but especially in the spring when the runoff is at its highest. Snoqualmie Falls is a 270-foot waterfall surrounded by a two-acre park, with an observation deck, and gift shop. Located 45 minutes from SEA airport there is enough time to fit a walk around the waterfall and lunch at the Salish Lodge. Consider making reservations. There are several very good views all along the gorge rim, and there is a steep 1/2 mile trail to the base of the falls. After your hike and hearty lunch, don't forget to snag a box of the famous pancake mix to bring home.
Snoqualmie Falls
What is the Most Visited Waterfall in Washington? Snoqualmie Falls! One of Washington State's most popular scenic attractions, Snoqualmie Falls is a 270 foot waterfall…
OPTION 5 - BAINBRIDGE ISLAND
One of the most popular tourist attractions is a ferry boat ride to one of the many islands that populate the Puget Sound. The easiest one to get to from Seattle Southside is Bainbridge Island. From the Seattle Waterfront, catch a Washington State Ferry to Bainbridge. Enjoy the short ride (only 35 minutes), and see some spectacular vistas in the Puget Sound area. From the Bainbridge Island Museum of Art, the Bloedel Reserve to the many shops and dining options this is a day well spent. On your way to the island remember to turn around for an amazing view of the Seattle skyline since you'll likely be viewing it in a different light on your return voyage.
Bainbridge island
This is the largest ferry system in the United States, serving eight counties within Washington and the Province of British Columbia in Canada. WSF is…
Read More
Washington State Ferries2911 Second Ave.
Seattle, Washington 98121

Bainbridge Island is a perfect place to spend a day! Take a break away from city life, or plan a relaxing stop on your way…
How many days do you need in Seattle?
A first-time visitor can see the best the city has to offer in as little as 3 or 4 days. This would allow enough time to explore downtown, taste Seattle's amazing food options, one or two unique neighborhoods, visit a museum, and have one or two outdoor adventures.
What should you not miss in Seattle?
This depends on the season, how much time you have and what your interests are. We might suggest visiting Mt. Rainier, Snoqualmie Falls, The Space Needle, Pike Place Market, Seattle Art Museum, Museum of Flight, Alki Beach, Redondo Beach, the Chateau Ste. Michelle Winery, Museum of Pop Culture, Chihuly Garden and Glass, Seattle Aquarium, and taking a ride on a Washington State Ferry to one of the islands.
What to do in Seattle before you leave?
Go to the top of the Space Needle, Columbia Tower, or Smith Tower for an amazing view of the city, enjoy the freshest oysters and seafood at one of the region's many outstanding restaurants, visit the original Starbucks coffee roastery, get some shopping done at Westfield Southcenter Mall, sip a glass or two of Washington's many outstanding regional wines at Quarterdeck overlooking Des Moines Marina and Puget Sound.
What is the best time of year to visit Seattle?
Two of the most popular times to visit the Seattle area are April-May when Cherry Blossoms are in bloom and September-October when the leaves are changing from many shades of green to oranges, yellows, and reds. Most summers are compared to paradise.
What can I do with a short layover in Seattle?
Eat, Shop, Play. Consider grabbing a bite at one of many popular restaurants near SEA Airport. Go shopping at Westfield Southcenter Mall, the largest mall in the state of Washington. Visit the Museum of Flight in nearby Tukwila.
You may also be interested in...
Are you new to town? Revisiting the great Pacific Northwest? Or sightseeing in the beautiful Seattle area for the first…
Only have one day in Seattle? You can see a lot (or most) of the best things to do in…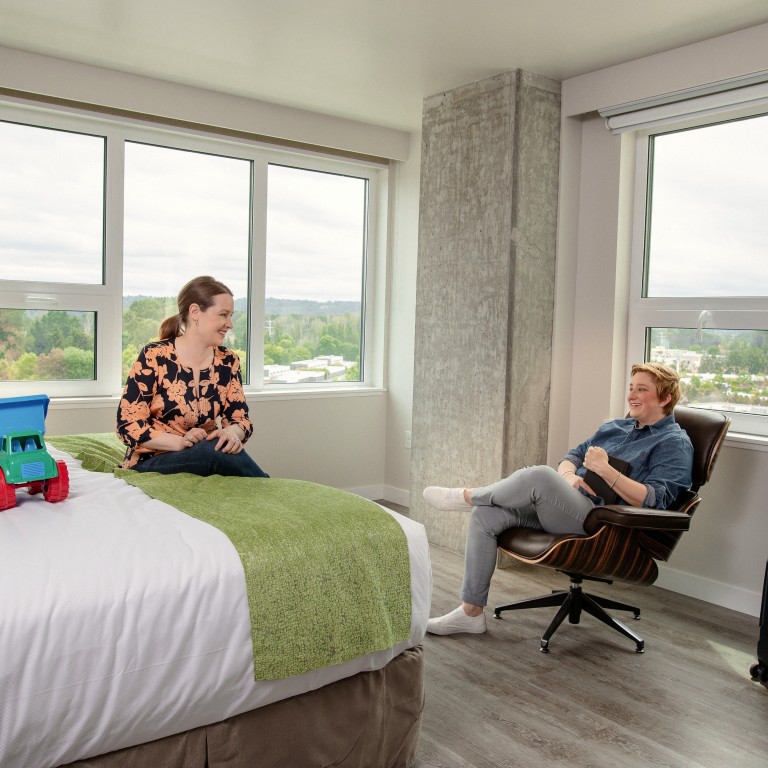 Seattle Southside is full of hidden and unexpected gems to keep families, couples or friends enchanted. Looking for your staycation…